Ok guys, we've got a new shiny retro themed official site for EmuVR!
http://www.emuvr.net
We also got a Twitter and Facebook page so anyone can follow us.
https://twitter.com/EmuVR
https://www.facebook.com/EmuVR
I'll keep posting every update here too.
__________________________________________________________________________________
Disclaimer: no download yet.
Update 6:
* Colored light from screens
* Positional sound for each speaker
* Turning tv on and off affects light and sound
* More accurate CRT shader
* Grab and move objects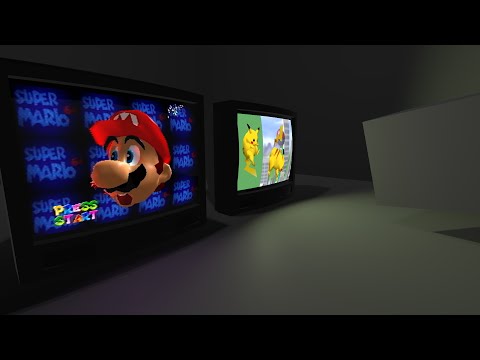 Update 5: changing CDs!
Click here for some sweet 60fps:
http://www.gfycat.com/JollyPositiveAndalusianhorse
Update 4: CRT and LCD TV subpixel shaders
(Please use these links to see it at full size, as the tiny thumbnail below won't make it any justice)
TV - Slot mask (comparison with real TV photo):
http://a.pomf.se/nxppra.jpg
Sony Triniton TV - Aperture grille:
http://a.pomf.se/oahexn.jpg
PC CRT Monitor - Shadow mask:
http://a.pomf.se/vfedro.jpg
LCD:
http://a.pomf.se/jlahzg.jpg
Update 3.4: PlayStation 1 console
Image gallery for this:
http://imgur.com/gallery/fgtj7/
View it in 3D (Closed tray):
https://skfb.ly/DHto
View it in 3D (Open tray):
https://skfb.ly/DHsp
Update 3.3: Check the models in your DK2:
https://forums.oculus.com/viewtopic.php?f=29&t=17078&start=20#p245887
Update 3.2: Nintendo 64 console
Link to bigger image in other angles:
http://i.imgur.com/s89Y4eL.jpg
Update 3.1: a N64 cartridge
Bigger image:
http://i.imgur.com/0HdkwrP.jpg
Click here to view it in 3D:
https://sketchfab.com/models/1e73c11301694aa8878a22a4d62f3b75
Update 3: opening multiple games, TVs, physics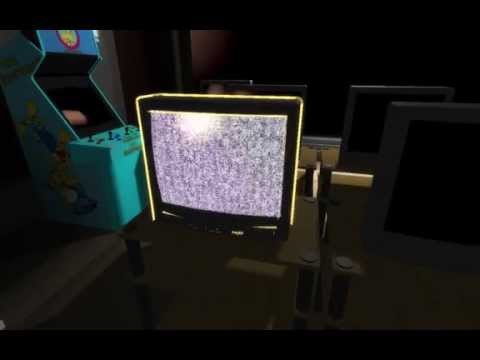 Update 2: PIXELS!
http://a.pomf.se/kebunl.webm
Update: new video running an arcade game!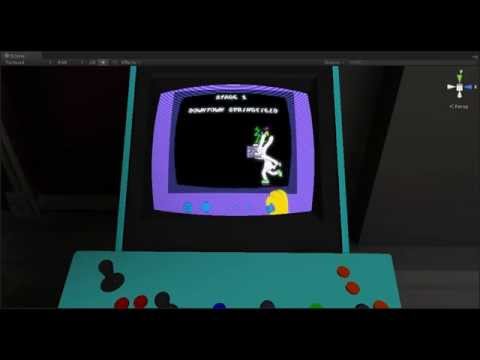 Here's a very quick video, finally something working to show!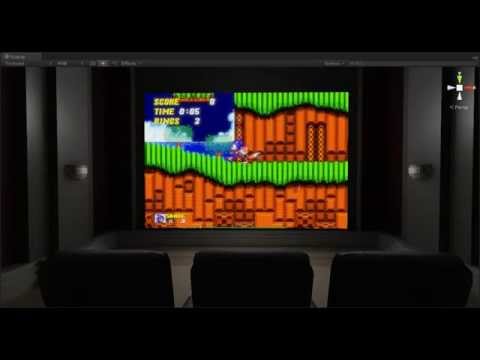 Hello! This is a virtual environment where you can load your favorite old games into a TV or a cinema screen and just play!
Just like SnesVR, but for many other systems too!
I'm using a Retroarch version with some modifications and Unity, so you can emulate anything Libretro can!
Here's a list of what it can emulate:
Systems:

SNES, Arcade, PlayStation, NES, Game Boy/Color, Game Boy Advance, Sega Genesis, Sega CD, Sega 32x, Master System, Game Gear, PC Engine, Neo-Geo Pocket, Virtual Boy, Atari 2600, Atari Lynx, WonderSwan, Nintendo DS

Game Engines:

Quake, Doom, Cave Story

WIP:

DOSBox, Nintendo 64, ScummVM, PSP, Sega Saturn

Videos!

https://libretro.wordpress.com/2013/06/ ... ro-ffmpeg/

List source:

http://emulation-general.wikia.com/wiki/Libretro#Cores
You'll need a Xbox 360 controller for this (or a PS3 controller emulating one). Currently it cannot handle keyboard or mouse input, so unfortunately you will not be able to play DOSbox, ScummVM or Nintendo DS games just yet.
The actual project:
You're a kid again, in your typical 80's/90's bedroom, with posters and whatnot, where you manually grab one of your many game cartridges/CDs (with actual labels), insert it into one of your many consoles plugged into a TV, turn it on, sit down and play!
Play on a oldscool 20" CRT TV or on a huge LCD TV. Stick your face to the screen and see those pixels just like your old TV.
If you look down, you'll be holding that console's controller.
On another environment, you'll play in a cinema screen! Or you could spawn a cinema screen inside your bedroom!
Or maybe an arcade filled with arcade machines, like NewRetroArcade.
Multiple machines running at the same time if your hardware can handle it
Netplay! Retroarch already supports 2 players netplay, so you should just host a game, your friend writes your IP and boom! Also, you get to see your friend by your side, holding his controller and looking at you