New Demo Uploaded:
https://www.dropbox.com/s/nkhe30g5bkzzm5b/VR FPS Demo 0.02a.rar?dl=0
It's still very VERY rough .. lots of bugs and glitches, but it does have 1 level with a start and a finish.
I still havent fully fleshed out the level design, mostly I wanted to add more details etc. But unfortunately I won't be able to do much work on it for a while as I need to send my HMD back in for a replacement. So I wanted to release something for people to look at.
Warning: Only Free locomotion is currently in the game, I myself am pretty much completely immune so I have no idea if it is going to make you feel unwell.
Controls (Touch Only):
Left Stick
: Forward/Backward/Strafe
Right Stick
: Rotation
Hold
- Y on the left controller or B on the right controller - Select weapon or access the options menu.
Trigger
:
If weapon held in hand - fire weapon.
If no weapon held in hand - grab weapon grip (maneuver your hand to the weapon grip first).
Right Grip Button
- Jump
Other Controls (on keyboard):
F
- Toggle FPS Counter
G
- Toggle Strippers in the Strip bar - I've disabled them by default because they are terribly unoptimized and may need to be redone from scratch. I made many mistakes with their models/materials due to my inexperience with Unity and how it handles "Draw Calls". I've since learnt a lot, but they are going to have to be redone (they werent all that great looking anyway). In any case, I've left the ability to re-enable them by pressing G, just expect a rather unreasonable frame drop if you choose to do so.
Options:
VR Options have been implemented for: Smooth/Snap rotation and Orientation Switching. They can be accessed by pressing B or Y and selecting "Options" from in game.
Please let me know if this is at least slightly enjoyable... or if it even works.
----
Previous:
This is just something I've been working on over the holidays. It has 2 enemies, 3 guns. Some weapons can be wielded using 2 hands such as the shot-gun (which you have to physically pump action using the touch controllers), or any gun can be dual-wielded Serious Sam style. It's got full touch controller support and features a first person body as well as arms that connect to the hands.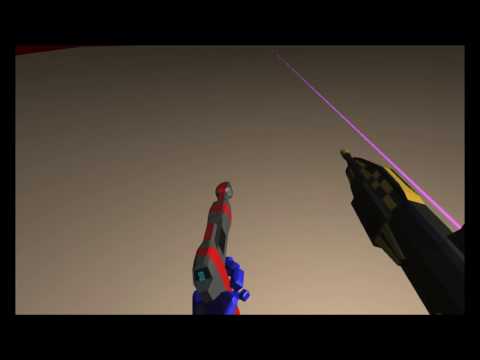 I tried to draw inspiration from the classic FPS style games such as DooM/Duke3D and Quake with maze-like level design that requires you to find keys to unlock doors and are packed with secret areas. I'm close to finishing up the basic functionality/engine stuff and am about to move into fully fleshing out the first level (many of the rooms are very plain at the moment as you can see in the video).