I used to play with my 2 sensors in USB2.0 but I wanted more precision for onward for example.
So I bought and installed the recommended card and plugged the sata power and all. It even has its own SATA cable in its own socked on my power supply.
Since that moment. Everything is f****d up. When my touch are completely still (even on table) they move. 
Sync is even completely lost sometimes like if the sensor disconnected, happens on both.
Even the headset tracking is completely lost. On racing simulators imagine being completely still and having your virtual head moving around in space, even slightly: vomit.
What is the problem? I don't want to go back to USB2.0 because I paid the damned thing.
My config:
Windows 10
intel 7700k
gtx 1080
16GB ram
SSD
Fresco logic driver version: 3.6.9.0
Should I uninstall my other USB drivers like intel 3.0? Is it possible that the card is using the wrong drivers?
EDIT:
I tried:
Changing affinity of ovrserver to cores 6 and 7 like some people said.
I tried resetting my position and height and sensors position.
Deleted the drivers. I'm now on Microsoft version 10.0.14393.0 drivers and same problem. Unplayable in every game.
Terrible worthless tracking of the touch controllers and not accurate head tracking.
I made a video of it in Onward but it's the same even in oculus home, my touchs are moving even when still on a table.
In onward they are attached to a VR stock so they are even more still.
When you see my gun moving in every direction and even away from me, remember that i'm not moving at all.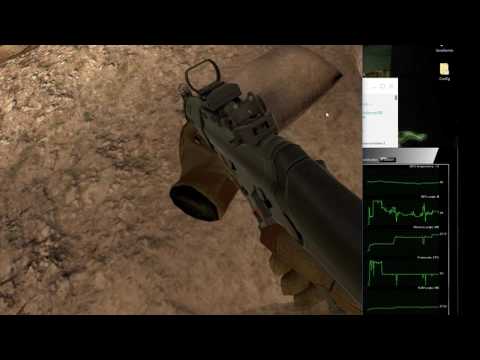 EDIT2:
OK just plugged everything in USB2.0 just like I was playing for months before buying the Inateck card.
It's worse! Everything like in the video but worse. My hands are teleporting everywhere in home and my head is jumping too and moving around.
It's not working anymore  ='(
Maybe something else like an update happened exactly when I installed the card but I wouldn't know.
Please help! That's horrible I can't play anymore.  ='(
EDIT3:
I give up. I've tried everything. Even splitting my 2 sensors and the rift on 3 different usb hosts.
The best result is rift+1 sensor on the inateck and 1 sensor on front USB2.0
The result is a lot less spectacular than my first video but still unplayable.
I guess I'll have to leave the rift and go play other games. I won't have time to investigate more this week.
Just so you know I also tried to play in complete darkness even with the tv off.
And I replaced the battery of each touch just to be sure.
That's a shame to leave it on the shelf considering how well it was working just a few days ago. Look this shitty video of me enjoying the same game with same hardware and same place just one week ago...
Maybe something in my rift or sensors just fried?