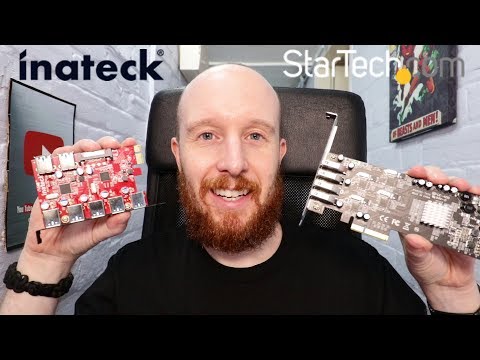 If you don't want to watch the video, that's cool. Here's a summary;
Over the past few weeks I've been testing the Inateck PCI-E USB expansion card as it was the most commonly talked about card in the community and the original card recommended by Oculus.
I was testing the card with a four sensor setup. I found the card very problematic, I experience blue screen of deaths reporting WDF_Violation despite trying numerous configurations, different slots and drivers.
I even tested using two Inateck cards. At times this worked but as soon as I reset my machine it would be unreliable again.
I eventually stumbled across an official Oculus blog talking about the hardware required for four sensor setups.
In the blog they recommended the use of USB expansion cards that have multiple controllers on board (The Inateck card has seven USB ports but only uses one on board controller).
Oculus recommended two cards, the RocketU 1144d and the Startech dual & quad controller card. The Startech was priced at £86 which was cheaper than the £109 RocketU.
I ended up ditching my two Inateck cards and testing the quad controller Startech card. The Startech card is much larger and only has four USB slots but has a dedicated controller for each slot.
I've been using the Startech card in my system for over a week now and have experienced no disconnecting issues or system crashes at all. I have four sensors plugged into the Startech and the Rift plugged straight into my motherboard.
If you're looking for a USB PCI-E expansion card that plays nice with the Rift I would recommend the Startech card. Here's a link where you can pick one up (affiliate link) - http://amzn.to/2tDy3Ej
TL:DR - The Inateck card caused me problems. Would recommend Startech card.