Edit: it's out!
*** Update Feb 13: Third release, with some improvements and localized versions also for the Vive!

*** Update Feb 2: The mod now works correctly on the HTC Vive thanks to the magic of Revive!!!
*** Update Jan 16-25: All localized versions released!
Grab it while it's hot at 
https://github.com/LukeRoss00/nolf2-real-mod/releases
Instructions are included with the release. Let me know (preferably here so it can help other users, but a PM is fine too) if you find any problems or if you get any joy!!!
THANKS to all of you who tested the mod and reported back, and also thanks to the many others who volunteered. Although I did my best to fine-tune the release, I don't expect everything to work perfectly for everyone, so your feedback will still be very important.
SweViver has made a fun gameplay video ("Come here, lady: I'm gonna slice you with my katana!"):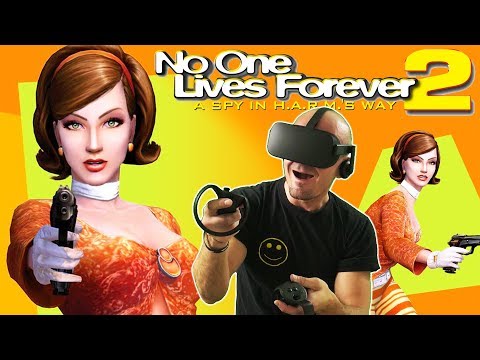 Have fun kicking H.A.R.M.'s butt  
Original post:
Hi folks!
No One Lives Forever 2 is one of my favorite games of all time. In my mind, there was only one way to make it better (apart from a much awaited sequel, that sadly looks like it's never going to happen): a total VR conversion!
The VR community has given a lot to me. Amazing mods like Doom 3 BFG - VR, Jedi Knight II: Jedi Outcast VR, the MotherVR mod for Alien: Isolation, the very existence of affordable devices like the Rift and the Vive: I really wanted to give something back. I also desperately wanted to play NOLF2 in VR, and... nobody else was doing it, so I decided to step in.
In honor of the traditional bent for acronyms that pervades the NOLF universe, I couldn't restrain myself from naming this the "R.E.A.L." mod. I have done my best to preserve the magic of NOLF2 by keeping the VR conversion as close as possible to the original feel of the game, in every aspect that I could think of.
I believe that the mod is basically ready for release, and now I am looking for testers to make sure there are no glaring problems before making it available to the whole community.
If you are willing to experience Cate Archer in VR and you don't mind the occasional rough spot, reply here or PM me and I will send you a link to download the mod. Of course you will need the original game in order to play. It is best if you have some time to spend on this in order to go through the full game and report on any bugs that you might find, but even if you can just play a level or two, your help is precious to ensure that the community will be able to enjoy a quality release.
On my system (Oculus Rift, GeForce GTX 1080 Ti, Xbox One controller) the mod works very smoothly and runs at 90 fps with 2.0 supersampling, 4x antialiasing and all the graphics options maxed out. The game still truly is a beauty to behold, keeping in mind that 15 years have gone by since it was originally released. Ideally, I would like to have some testers that can report to me how (and if) the mod works on different configurations: for instance AMD graphics cards, Logitech controllers, and so on.
Even though this is obviously not the right forum to ask, if anyone also has a Vive available, it would be good to know if everything works correctly through Revive.
Thank you for reading this, and I hope that you will enjoy playing the mod as much as I did coding it!!!

Update Dec 12:
Depending on your system configuration, you might run into problems if you install the original game inside "Program Files (x86)" (trouble unpacking the mod files, game doesn't save, etc.). When NOLF2 came out in 2002, Windows wasn't protecting the Program Files folder yet, so the developers decided to put the saves inside the program's directory, as was customary at the time. To avoid trouble, it's best if you choose a normal folder during installation: for instance, tell the No One Lives Forever 2 installer to put the game in C:\MyGames\NOLF2.

Update Dec 11:
If the mod is crashing for you and/or you don't see Cate Archer's welcome animation at the title screen, you might have conflicting versions of the game's effects library. In your installation folder, you might find a subfolder named "Game", and inside that, a file named "CLIENTFX.FXD" (there's also a "CLIENTFX" folder, but I'm talking about the file). Either delete just this specific "CLIENTFX.FXD" file, or delete the whole "Game" subfolder altogether, which will save you 1,75 GB of disk space. Don't worry about the contents of the "Game" folder: they're all duplicate files and old versions, and they were needed only for working with the level editor.