If you browse through this forum (or any forum that discusses Oculus hardware), you'll INSTANTLY find threads that deal with Nvidia compatibility issues with the Rift. The current (391.01) and the previous
THREE
Nvidia driver releases (390.77, 390.65 and 388.71) can show severe problems ranging up to total black-outs for Rift users. Instead, the early December 2017 released 388.59 is
OFFICIALLY RECOMMENDED
to be used.
Black Screen on Rift? Be Sure to Use Nvidia Driver 388.59
 (posted Feb. 18)
It's now March 2018.
If you read a bit more, you'll quickly find out that even BEFORE 388.59, Nvidia drivers used to cause a lot of trouble. There are many threads dealing with the symptoms:
Nvidia drivers and Oculus Rift head tracking stutter / judder
 (posted Nov. 17)
Rift stuttering
 (GTX 1080 owner, posted Nov. 17)
How to fix second-wide stutter in Oculus Rift?
 (GTX 1080 owner, posted Nov. 17)
Heavy Stuttering During Moderately Intense Gameplay
(GTX 1060 owner, posted Feb. 18)
Oculus Rift not working with Nvidia Driver 390.65
 (posted Jan. 18)
45 FPS Problem in some games
 (GTX 1070 owner, posted Jan. 18)
Poor performance
 (GTX 1080 owner, posted Feb. 18)
EDIT - MORE THREADS ADDED IN APRIL -
Stutter with Nvidia drivers since 388 and beyond
 (Trouble since 388 driver build, GTX 1060, posted April 18)
Occasional Brief Stutter/freeze when looking left/right
 (GTX 1080 owner, didn't have these issues when he got his Rift new, posted April 18)
occasionally stutter / judder - Please help
 (GTX 1080 owner, posted April 18)
Experiencing some lags/stutter in games/apps. Is hardware the problem?
 (GTX 1060 owner, posted April 18)
These were found by just looking through the first few pages of this forum. And while Nvidia GPUs may work fine with
some
configurations, it's quite clear that there is a severe and obvious thing going on ...and I can say for sure that our systems are affected by the problem.
I'm co-founder of a VR services company and back in or around August 2017, the Rift used to work great with the then current Nvidia drivers (~384.94), but from then on, things started to go downhill. The currently (officially recommended!) 388.59 driver causes an overall disappointing performance, stutters and just spoils the whole experience on our systems (see my signature for hardware details).
We tested the "recommended" 388.59 Nvidia drivers versus the old 384.94 drivers and found out interesting things. These tests were done on multiple notebooks (with identical configurations) and with multiple Rift headsets. So, it's more than unlikely, that faulty hardware has to do with these results.
We ran a few tests, firstly, in a very simple test environment (we created especially for this test) and secondly in a performance hungry VR experience which runs at an average of 45 FPS. Here are the results:
"Light" App (~90 FPS) on 384.94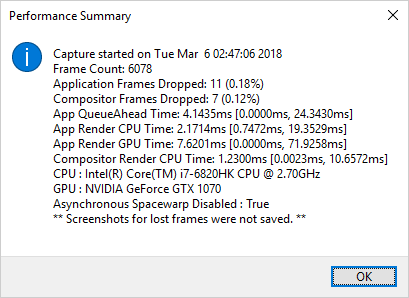 "Light" App (~90 FPS) on 388.59
It's 11 and 7 dropped frames on 384.94 versus 276 and 49 on 388.59.
The results really speak for themselves. All tests were done under same conditions, same app, same settings etc. It becomes even more worse and clear with the "Heavy" App (that runs on 45 FPS average):
"Heavy" App (~45 FPS) on 384.94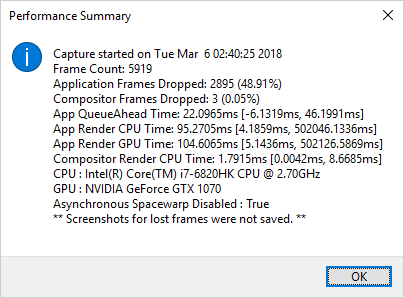 "Heavy" App (~45 FPS) on 388.59

With 45 FPS it's to be expected that around 50% of the total application frames are dropped (as 90 FPS is considered 100%),
but the HUGE problem is in the Compositor Frame Drops: It's 3 (0.05%) versus 108 (1.74%). And this REALLY makes the experience unbearable.
Compositor frame drops are frames that drop as a result of the Rift not properly functioning as opposed to frame drops due to performance hunger.
CONCLUSION:
Current Nvidia drivers are HEAVILY broken for Oculus use and it's wise to use older drivers. However, the December 388.59 doesn't do it for us neither and we had to roll back all the way to 384.94 (released July 2017) for acceptable performance. Being developers ourselves, it's totally beyond us, how such an easy to reproduce misbehaviour wasn't already fixed months ago.
With all the complaints on the first few pages of this board alone, Nvidia really seems to be either ignorant or too incompetent, to release actually working drivers for the Rift.

"THE WAY IT'S MEANT TO BE PLAGUED..."