PSA because I've been stung twice now by store credit. Check the dates on the app.
Bought the Rift on Black Friday 2016. Had virtually no problems since, always been great and good support on the one issue I did have with the hdmi cable. The problems I had were store credit.
Black Friday UK sale had £100 credit with it, went in the Game.Uk store and asked: "Yes, you can spend the store credit on the touch when released". Sting number one, I'm totally unable to spend Oculus credit on Oculus gear, only digital goods. Not Oculus' fault at all there but that is relevant because I didn't know what games to buy. I already had the main games I wanted to play and all others were jumping on the handheld controller bandwagon. Without the resources to buy Oculus touch (personal situation changed a lot early 2017 including moving house and saving for a mortgage) my options were a bit limited and the credit got left there with me bumbling away happily using the Rift on the games I had.
Anyway, fast forwards to today and the free store credit e-mail and I think, oh yeah, great, I can probably look at getting the touch later this year now things in my life have calmed down again. Looking at what touch games there are out now and see £11 credit in account... Hmmm, check purchase history, and credit history and then the smallprint. £100 wiped December 2017 because a digital thing without a specific expiration date only lasts 12 months apparently.... £100 down the drain.
To be clear this is what Game.uk sent. And the activation just said "Thanks for redeeming" so it was pretty hidden, admittedly my fault for not reading but I feel it could have been made a lot more obvious by both Game and Oculus.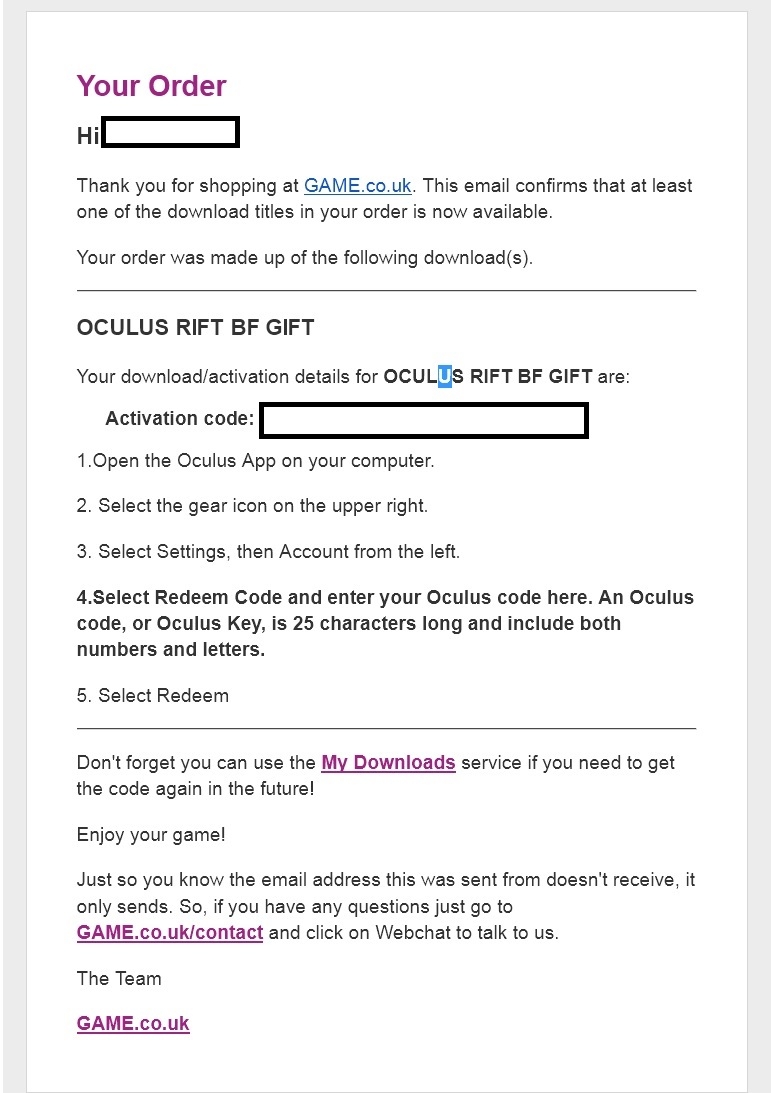 Feeling pretty annoyed to the point where I've already taken pictures to list my Rift for sale on e-bay. Going to sleep on it but I definitely cannot see me buying OC Touch now as I can't justify spending £90 on the hardware and the same again on a raft of games.. I'd also get irritated each time I loaded it up, £20 I could write off but £100 is just painful...
So PSA, learn from my foolishness in assuming a number in a database wouldn't expire and check your dates!
Edit: Slept on it. Going to get my moneys worth over the next few weeks and then list for sale. Hopefully this post will at least save someone a bit of money.