Getting well  into my second month of exploration along this route:
If you get fed up with bugs or mundane missions in the Bubble, it's well worth heading out into the black. Taking your time, doing a sesh whenever you feel like it, with no stress, no time constraints or targets - just cruise and do what you like. I'm out here with Commander Hazardous Matt and another companion, and so far my undiscovered system count is at 134. Yes, that's 134 systems that will have my commander name on them - and an awful lot top-up for the bank, and I'm nowhere near the end of the journey yet.
First, we met up at the "bottom" of the galaxy (or top, depends which way you look at it!) and then headed towards the Lagoon Colonia Highway stop. From there we headed out towards the NGC/War & Peace Nebula. There were quite a few undiscovered systems along the way - but not much that was spectacular or particularly noteworthy - just regular systems, 65 undiscovered in all. When we got to NGC, I found that all of the systems from 20LY out had been discovered.
Whilst we sat there, wondering what to do next, I came up with the route in the picture above, and Matt was keen - so off we set. Since leaving NGC, almost every system I have come across has been undiscovered and there has been lots of nice screenshot material. Planets of all kinds of colours, werid huge gas giants and silvery, mirror-like rings, not to mention very spectacular looking nebula clouds.
Here are some screens from along the way. I'm only at stage 2 - and there are another 11 to go yet! Seey sometime around Christmas.... maybe!
See these clouds on the galaxy map?:
Well, they are there in the galaxy, too:
Planets are often coloured based on the clouds around them - like this one:
A typical system, ripe for scanning and imprinting with my name:
...and in many cases, they are just a few light years from each other, all in a nice, tight cluster:
You can see the nebulae we are heading for - it's almost like joining the dots:
these are a couple of the nicer ringed bodies - the second one is actually a shining Brown (Tauri) star and was very spectacular in-game:
This is where we are now - was a little reluctant to enter this aggressive looking cloud - but no worries, apart from cutting out some of the light and actually obscuring some of the neighbouring stars, it's quite harmless: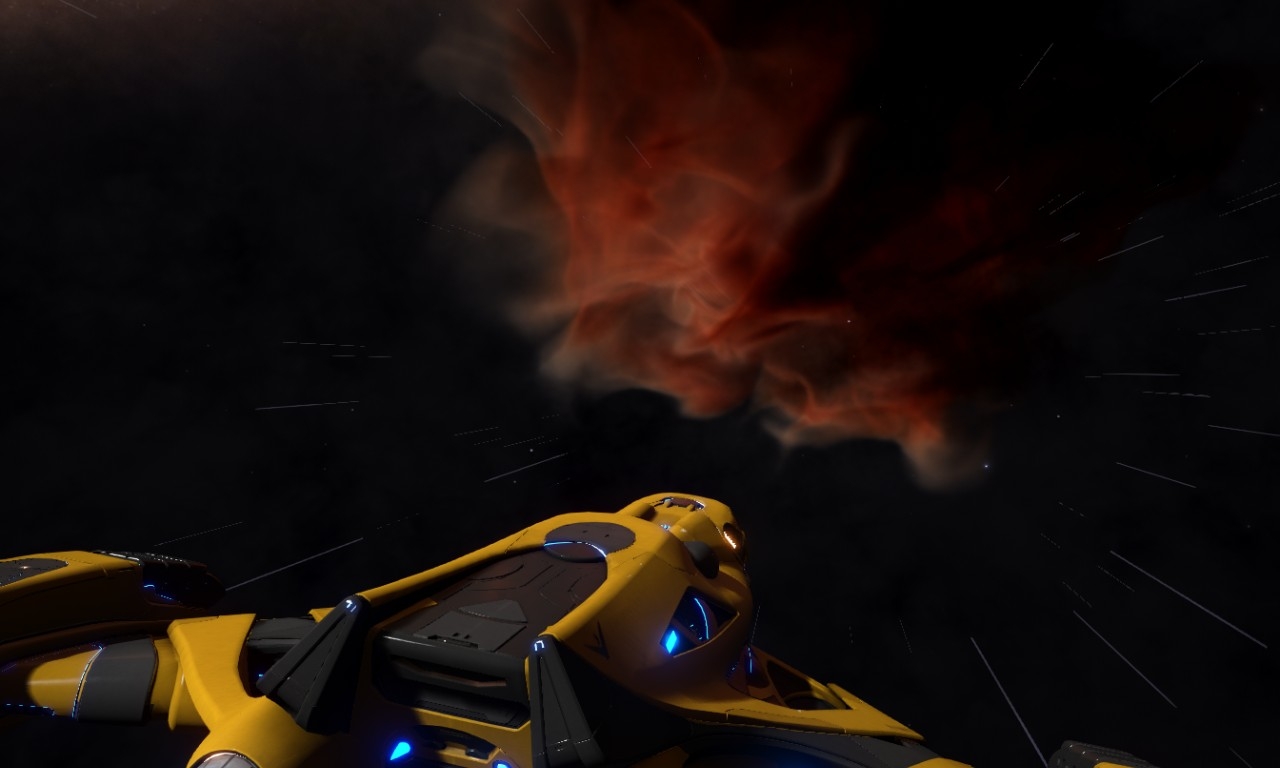 All of this, not even half as far away as Colonia - so you don't have to go that far to find it, and find 'fame' in the form of your name spread across astronomical bodies in the galaxy.
And it's so much more relaxing...