Hai,

If you want custom Sabers:

1. Download and Install Beat Saber Mod Installer (make sure install location is correct):
https://github.com/Umbranoxio/BeatSaberModInstaller/releases
2. Download and Extract SaberPlugin.zip (Unity folder for creating your own custom sabers):
https://drive.google.com/open?id=1mIhF2CnhliigKJFS5tgtL7KQR3soVoMq
3. In 'SaberPlugin\Place contents in your game folder', copy the 'Custom Sabers' and 'Plugins' folders to your Beat Saber install location (Steam or Oculus)
4. Go to Beat Saber Mod Group Discord:
https://discord.gg/ZY8T8ky
5. On the '#finished-sabers' tab, download a .saber file and drop that in to the 'Custom Sabers' folder I just mentioned
You can copy multiple .saber files to this folder and select them individually in game
Start Beat Saber and when in main menu, look to bottom right for custom saber selection menu
That's it.
Full video tutorial here: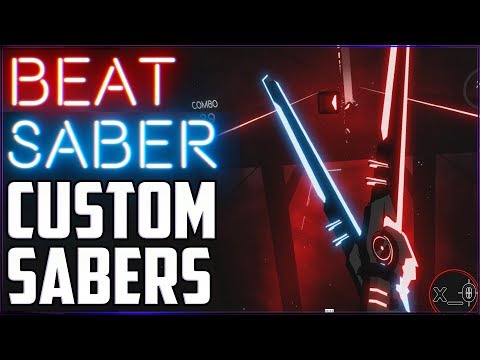 x_0