Hi all!
Watching movies and Netflix on the Oculus GO has become a favorite past time of mine thanks to the reduced SDE and improved resolution of the Oculus GO.
Text instructions below, also made a video guide here: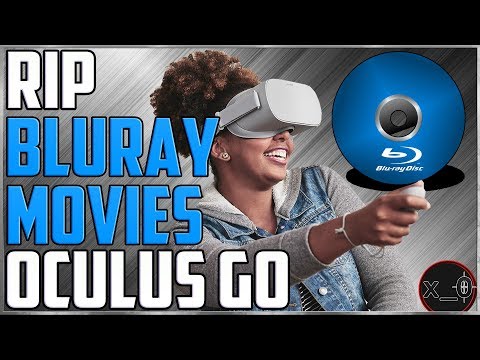 NOTE:
All the software mentioned is free.
This works for normal DVD's as well, just skip the 'shrink file' part (unless you want subtitles).
Rips are 720p due to Oculus GO resolution limitations but look a lot clearer than what you would expect from 720p on a PC/TV. More info here:
https://twitter.com/ID_AA_Carmack/status/1004366416173248512
STEP 1: DOWNLOAD AND INSTALL FREE SOFTWARE
a)
Download and install latest MakeMKV Software:
http://www.makemkv.com/download/
Go to this website and copy the MakeMKV beta code from the box:
http://www.makemkv.com/forum2/viewtopic.php?f=5&t=1053
Open MakeMKV software and at the top, click 'Help > Register', paste the beta code in to that field and click 'OK'.
b)
Download and install latest Handbrake software:
STEP 2: RIP BLURAY MOVIE TO YOUR PC
a) Open MakeMKV, click the big hard drive/disc icon to analyze the movie files
b) Once it's done, in the list of 'Titles' untick all the boxes except the main movie file (this will almost always be the biggest file listed here)
c) Click the 'Output Folder' icon on the right hand side and hoose the location on your PC where you want to store the movie file
d) Click the MakeMKV button. The software will rip the BluRay disc to a file on your PC(will usually take around 30 minutes)
STEP 3: SHRINK MOVIE FILE
a) Open Handbrake and click 'Open a Single Video File' button and browse to the movie file you just ripped to your PC
b) Click the presets drop down list, go to the General menu and choose 'Super HQ 720p 30 Surround'
STEP 4: SUBTITLES
Only do this step if watching movie that requires subtitles, otherwise skip to step 5.
a) Click on 'Audio Tab' and from the drop down lists choose the language you want to hear the movie in
b) Click on the 'Subtitles' tab and from the drop down list pick the correct subtitle track
Note. To find correct subtitle track, open the movie in VLC Media player, click 'Subtitles' at the top and try the different subtitle tracks until one of them works. Take note of that subtitle track number and pick that number from the drop down list in Handbrake.
c) Untick the 'Forced Only' and 'Default' boxes. Tick the 'Burn In' box.
d) Click on 'Selection Behavior' and tick the 'Add Closed Captions When Available' box and click 'Save'
VLC Media Player Download: https://www.videolan.org/vlc/download-windows.html
STEP 5: SHRINK MOVIE FILE (cont)
a) Click 'Browse' down the bottom and pick the location on your PC's hard drive you want to save your reduced movie file to. Give file a name (like MovieName – Small) and click 'Save'
b) Click the 'Start Encode' button up the top (this will take a while)
Note: If handbrake crashes when trying to encode, go to the following link and download + install the Handbrake Nightly Build by clicking the 'WinGUI.exe' download link and repeat from step 3.
Handbrake Nightly Build: https://handbrake.fr/nightly.php
STEP 6: TRANSFER MOVIE FILE
a) Turn on your Oculus GO
b) Plug Oculus GO in to your PC via USB cable
c) Put on Oculus GO and 'Allow' the connection to your PC
d) Back on your PC, go to 'My PC' (Windows 10) or 'My Computer (Windows 7) and open 'VR Headset > Internal Storage > Movies.
e) Drag and drop your reduced movie file in to that 'Movies' folder
f) Unplug Oculus GO and put on headset
STEP 7: FREE VR MEDIA PLAYER
a) Download and install free Skybox media player from Oculus GO store
b) Open Skybox and play movie file
c) Press the trigger on the Oculus GO controller when the movie starts and in the 'Stereo Mode' menu make sure that '2D Single' is selected
d) On the left go over to the 'Subtitles and Track' menu, and in the 'Track' tab, select stereo or surround depending on what is available
e) Choose your environment in 'Cinema Scene'
f) Reset your view to a comfortable position
g) Hit play, kick back, relax and enjoy the film!
x_0