Ghostly Summerwind for the Oculus Rift+Touch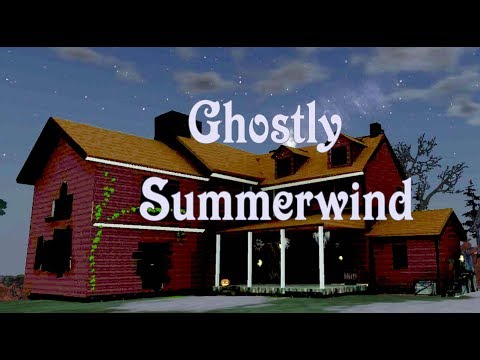 What started off as a short project for some friends who love Summerwind Mansion turned into 10-months of development.  Initially it was just going to be a model of a haunted house that people could explore.  But as things evolved it became more of a game with some short mini quests and achievements to get.  I kept the scares in the game on the low end because I wanted to get a teen rating.  
Summerwind Mansion was built in the early parts of the 20th century but became dilapidated by the early 70's.  Attempts to turn it into a bed and breakfast failed and it eventually burned down in the 80's. 
Over the past 50 years lore has built up around the house and land being haunted.   The area is on private land and is closed off to public access.   The ruins of the house are all that is left which consists of two tall stone chimneys and a patio with some stone arch supports.  I managed to reconstruct the house from online photos, some blurry blueprints I found online, and the satellite images of the ruins and reading about people's descriptions of the house.
The game can be won in under 20 min. but getting all the achievements can take about 2 hours to complete.  I'm sure this can be done faster once people start to share some of the hidden secrets.
I know Oculus has a very generous refund policy.  My request is if you play the game and don't like it, then please ask for a refund.  But I would like for you to consider it like a haunted house tour available for you 24/7 and year-round.   The advantage is you don't have to stand in line for 30 min to be rushed through a very linear haunted house like you visit during Halloween.  Take your time.  Look around.  Break things.  Find a way to the roof!  I did.  I've even found it relaxing to look out the window of the attic in a lightning storm or find a corner in the cave to listen to the distant echo of dripping water.  See if you can find all 148 coins. Most are easy to find and some a bit tricky.   Or just think of your $4.99 contribution as a "go fund him kind of kick starterish kind of thingy".
My plan is to put some of the funds raised from this app towards filming and making more Cosplay Music Videos (CMVs).  My company will be making a total of 4 smaller Oculus VR games to help fund a larger project being written by my 9-year-old daughter.  This will be a RPG fantasy game that will be marked towards young teen girls.  But more on that at another time.
So I do hope you have fun with this game. I know its not a AAA or a 5 star game. But a lot of love went into it and I do hope some out there enjoy it.
I used a lot of Unity assets in making this game. I gave credit for many of them in game. But I wanted to personally thank some of them here. First thanks to the face book group "For the Love of Summerwind" for sharing a lot of photos and stories about Summerwind mansion and inspiring me to make this game. I also want to thank Sergi Nicolas for the spooky Haunted Dolls pack. The land in the game was sculpted using Voxeland by Denis Pahunov. A lot of the effects in the game were by Kripto289. The weather and sky is Enviro by Hendrik Haupt. The steampunk Oculus Touch controllers were designed by 3lbgames. Many of the models used in the game were designed by Mr. Necturus and I hope to use more of their models in future games. A lot of the breakable objects were designed by Gesta2 (Unity asset called Breakable Electronic Props). Lastly the song "Exploding Horror Rock Theme" used in the promotion video is by Catch 22 Music. In the game you can find and watch on a TV another more spooky music video using this same song. If you like this song please check out his website at www.bobbycole.co.uk
Lastly thanks to Oculus and the Oculus game community. I hope to make many more games for young gamers around the world to enjoy.