The first reviews have arrived:
1:
https://uploadvr.com/windlands-2-review/
Final Score: 7/10 – Good
Windlands 2, when at its best, is a delight to play. Swinging through the air with friends, rhythmically grappling between trees, and feeling the rush of adrenaline as I arc across the sky — all while shooting my bow into the distance — is an unrivaled joy in VR. There's a great foundation here, but it could have been so much more. It's just a shame that it doesn't have the execution to fully live up to its potential.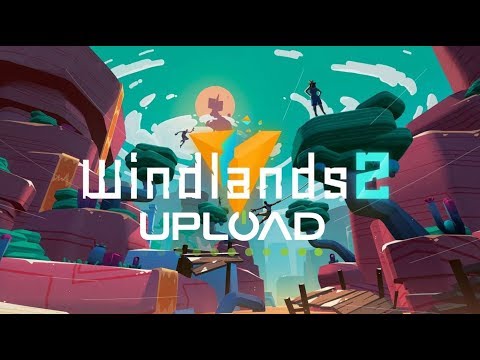 I believe the reviewer makes the great mistake of comparing Windlands 2 to "what it could have been" instead of comparing to other games in the genre. And the reviewer does write that Windlands 2 "is an unrivaled joy in VR". "An unrivaled joy" means that no other game does it better - indicating reference status, and that smells like 90+ % to me. We'll see in some hours...
2: https://www.roadtovr.com/windlands-2-review/
SUMMARY

'Windlands 2' offers up much of the original's high-flying, death-defying heights and puzzling platforming that made the first in the series such a success, but now offers co-op combat and a genuine story to its rolls. The story, while pretty simplistic, uses classic gaming tropes that aren't hard to swallow, but consequently leave little aftertaste. The lack of any penalty for dying leeches some of the excitement of killing the world's titanic bosses, although in the end, 'Windlands 2' competently sets the stage for a larger, more epic dive into the evil that destroyed the world. Looking past some of the smaller blemishes, what remains is a beautiful, and difficult platformer that promises more fun yet to come.  

Gameplay:

 8 | 

Immersion:

 7.5 | 

Comfort:

 7.5

I'm not sure I'm going to agree with the ratings - in the Oculus Store Windlands 1 now has an average rating of 90 % based on more than 300 ratings. And reading the reviews, I get the feeling that the reviewers like Windlands 2 better than the original. Destructoid did their best to kill the original by awarding it a rating of only 6/10 - while writing: "

Windlands

 is one of the most beautiful games I've ever played. From the uplifting soundtrack to the thrill of jumping around in first-person and grappling like a maniac, it's a fun experience." Again, such praise doesn't really sound like a 6/10 to me. Maybe we should just multiply the review score from professional reviewers by 1.5 - then we may get the right score  

Furthermore none of the above lackluster reviews mention hardware requirements - do we need a 2080 to run the game or is a 970 enough? Will it run on Granny's laptop? What about super sampling and other graphics' settings? 
Intel i7 7700K (4.5 GHz); MSI GeForce GTX 1080 8GB Gaming X (oc 2100 MHz gpu boost, 11 GHz mem speed); 16GB Corsair Vengeance LPX DDR4 3200 MHz; MSI Z270I Gaming Pro Carbon AC (VR-Ready) mainboard; Samsung 960 Evo M.2 SSD + Toshiba P300 HD; Windows 10 OS; Valve Index and Oculus Rift CV1 - the latter nearly always using super sampling 2.0. 

"Ask not what VR can do for you – ask what you can do for VR"