Looks (potentially) awesome:
https://www.pcgamer.com/amd-unveils-next-gen-radeon-vii-launches-february-7-for-dollar699/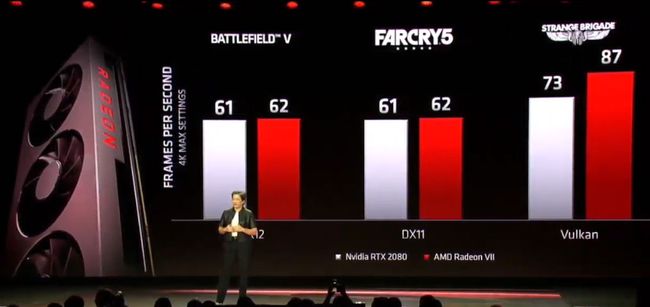 Quote:
"The Radeon VII boasts 60 compute units and 3,840 stream processors running at up to 1.8GHz. It also has a generous frame buffer—16GB of high bandwidth memory (HBM2) delivering 1TB/s of memory bandwidth. It's not really a surprise that AMD is sticking with HBM2 instead of GDDR6, as that's been the case with every Vega model so far.
AMD's reference design follows Nvidia in ditching the blower format, going for a triple fan design instead. That's probably for the best, as the former blowers could get incredibly loud at higher fan speeds. Plus, AMD apparently still needs to cool a 295W chip.
AMD says its 7nm architecture delivers 25 percent faster performance than the previous model, while consuming the same amount of power."
We'll see when more trustworthy benchmarks arrive
300W for 7 nm will be disappointing in my book - that's much worse performance per W than the 2080 Ti. But drivers are young, and if not for anything else, I hope AMD can help reduce Nvidia's RTX prices.
Intel i7 7700K (4.5 GHz); MSI GeForce GTX 1080 8GB Gaming X (oc 2100 MHz boost, 11 Ghz ram); 16GB Corsair Vengeance LPX DDR4 3200 MHz; MSI Z270I Gaming Pro Carbon AC (VR-Ready) mainboard; Samsung 960 Evo M.2 SSD + Toshiba P300 HD; Windows 10 OS; Oculus Rift CV1 - nearly always using super sampling 2.0.

"Ask not what VR can do for you – ask what you can do for VR"