Hey All,
So I have ventured in to the VR realm, and am in a learning process....and its a big one!. I am experiencing some problems, or at least what I percieve to be problems, but not sure.
I have reasonable graphics with my setup, which is as follows:
Intel i7-4790K CPU
Asus H-97 Pro Gamer Mobo
16GB RAM
Asus GTX 1070 Turbo GPU
Having a look at the picture in the VR environment, looks good, but I cannot help to think it looks a bit 'grainy'. Especially in the Home environment. I wear reading glasses and have tried with and without them, and it seems clearer without, so I assumed its a performance issue. When I activate the Performance HUD in the Debug Tools, it shows I am sitting in the low teens to negative headroom. I was expecting it to be a little better than that. THis is without adjusting the pixel density setting that everyone raves about as being the 'ultimate' setting.
I am just a little disillusioned about this, and have been wanting this setup mostly to do flight sims like wwar thunder and Il2. It just seems like it is a little too 'unrefined' though.
Is it me having these problems due to a setup mistake, or is it normal. If you look at this video, it seems that even on a GTX1080, there is still not the headroom expectation that I would have. 1070 looks to be similar to what I am getting.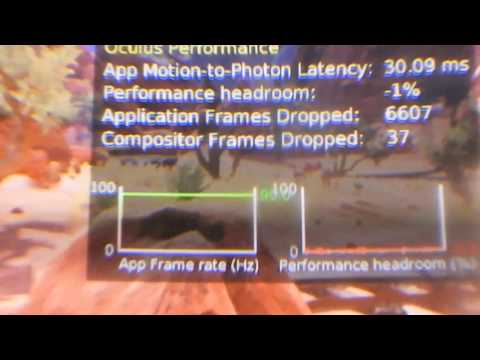 Thanks in advance....