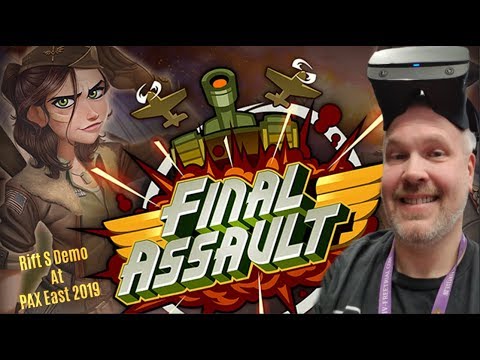 So a few weeks ago I got the opportunity to attend PAX East as a guest of Oculus to try out the launch titles for the Rift S and the Quest. One of the titles I tried and was pleasantly surprised by was Final Assault. Now those of you who have watched my channel for a while know I am not much of an RTS game fan. I don't dislike the genre, I just don't prefer it to other games I could be playing.... Lately VR has starting to shift my attitude towards RTS games though.
So after seeing the trailer for Final Assault I decided to give it a look in the Rift S and now I am glad I did. I have always been a fan of miniature scale stuff in VR and I'm happy to say that Final Assault delivers there! Watching these highly detailed little battles go down from a God like perspective over the battlefield was awesome! The graphics were crisp and showed a nice amount of detail in the higher resolution screen in the Rift S.
As you will see in this video and as I said before the RTS genre is not my thing and I am quite frankly just plain bad at it, but this still didn't stop me from just enjoying all of the miniature scale carnage going down all around me! I'm sure if I took the time to learn the game I would find it challenging. So if you are looking for a new RTS style game to play in VR you might want to give Final Assault a look!
"I have seen the light at the end of the tunnel, and it is the headlamp of the oncoming virtual hype train!"