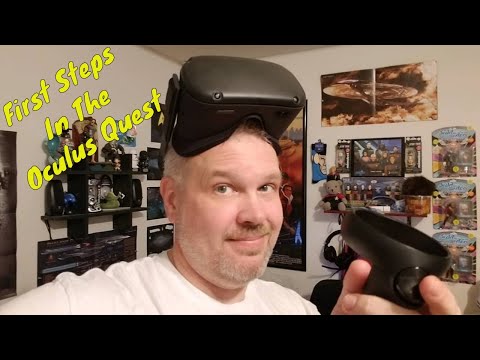 So this week I got a huge surprise in the fact that out of the blue I received a new 64gb Oculus Quest from Oculus. I had absolutely no idea that this was coming and needless to say when the student from shipping and receiving brought the package to my office and I opened it my jaw just about hit the floor!
As many of you know I have been struggling financially lately after buying our first house and I really thought that this would be the first launch from Oculus since the DK1 that I was going to miss but low and behold it looks like that is now not going to be the case thanks to the generosity of Oculus.
So for the first video I thought what better than the First Steps demo that new users will go through after setting up the headset... For me most of this was old hat but for a complete newcomer to VR this is going to be an invaluable experience to get them oriented to VR and having six degrees of freedom tracking of both the headset and their hands.... Oh and dancing with that damn robot was an amazing experience even for an old VR vet like me, so I know its gonna blow folks who are new to VR away!
So that's it for the first video on my channel featuring the Oculus Quest but trust me there will be many more to come over the next week as we lead up to launch and beyond so thanks for watching! []-)
Sorry for the horrible audio.. I really need a good but cheap wireless LAV mic so if you have any suggestions please let me know in the comments!
"I have seen the light at the end of the tunnel, and it is the headlamp of the oncoming virtual hype train!"