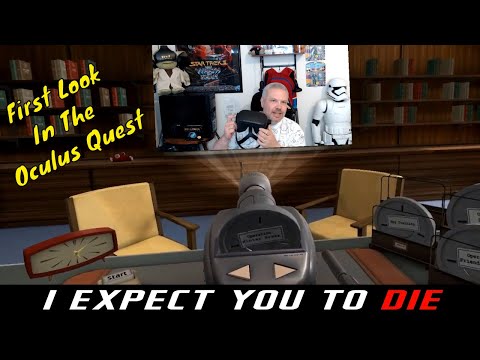 So here we are just a few days away from the launch of the new Oculus Quest and for today's video I wanted to revisit a time honored classic among VR games and play I expect You To Die.
It seems as if I have been playing this game on and off for years as the first time I remember seeing it was when the original demo hit the old Oculus Share site back in the DK2 days. I have to say it has been great seeing Schell Games reiterate this title a few times over those years going from DK2 Tech demo with just Gamepad support to seeing it launch again for the Rift CV1 with full motion controls and now once again for stand alone VR on the Oculus Quest!
 Overall not much has changed for the Quest release... It still has that cool stylized look and feel and a bit of tongue in cheek humor that keeps me chuckling fro time to time. The level of polish in this one is great and really shows off the new screens and optics in the Quest. I think the only thing that I really wish we would have seen was the ability for this to have become a room scale experience as it has remained a seated game since the first iteration. Other than that is still a highly enjoyable and sometimes challenging experience that will keep you wanting to come back for more. If you are looking for something to play when you get your Quest on Tuesday then I can totally recommend giving this one a look! []-)
"I have seen the light at the end of the tunnel, and it is the headlamp of the oncoming virtual hype train!"