I decided to start a thread to discuss all forms of physical fitness and training for anyone else who engages in this activity on a regular basis.
To give some context: Back in 2016 when the Rift CV1 was released, there was a lot of debate over the potential for VR to help people get involved in physical fitness. Since then, there has been at least one major article about someone who got in shape by going between VR Experiences like Beat Saber and Boxing sims. My stance back in 2016 and 2017 was that the idea of getting all sweaty in a VR HMD seemed rather absurd. I maintained the viewpoint that using a VR HMD can cause more harm than good. Examples include obstructing your vision so that you are unable to make sure that your body is maintaining good form during excessive movement. Another example is the added next strain caused by the weight of the HMD, as well as wrist strain caused by VR Hand Controllers. Especially something as bulky as Wands or Knuckles.

However, in 2018 and the beginning of 2019, I found myself becoming something of a hypocrite. I was very much addicted to building up a sweat in Creed Boxing. And I started trying to reach the top ranks in certain fitness sims within the game.  Fitness in VR started to really peak my interest. And I was planning on creating a VR Fitness thread one day, where I call myself out for being wrong, and exploring additional creative implementations of VR and Fitness.

But then right around March/April of 2019, I found myself going to the gym more often. And I was also spending almost zero time doing anything in VR related to physical fitness. Any time I entered VR, it was either for an RPG or Action Shooter experience. But I wanted to either stand or sit without over-exerting myself. Yet my desire to continue pushing my body towards being stronger and faster didn't go away. So there I was... in the gym twice a week for a few months. And then it became 3 times a week. And now as I post this, I have spent the last 8 weeks going to the gym 4-5 times a week.

I realize now that I have gone full circle. Getting a workout in VR was great for awhile, but all it ended up doing was making me want to get outside to run, jump, and swim. And then get inside a gym to exercise with others who are dedicated to fitness. I think VR served as a great catalyst to rekindle my desire to "get in shape." And so this thread is for anyone who may want to talk about fitness goals, strategies, meal plans, etc.
All that being said, here is my overall approach:
I had been out of the gym for a number of years. Family and career took over quite some time ago. At best, I might have tried to run my lazy ass around the block once or twice a month. I would attempt a pushup or a few squats on occasion. But never anything consistent. So when I decided to go back to the gym and start hitting it hard, I felt like I needed to re-educate myself. And I came across two rivaling schools of thought, both which I feel have pro's and con's that can serve me well.
On one side, we have the "science" of fitness. Where we address things like:
What are the most effective arm exercises?
What's the best chest and legs exercise?
How much time should you spend working out each day or week?
How many reps should you do?
How much time should you wait between reps and sets?
What should you eat before the workout? What about after?
How much sleep should you get?
While there is a lot of value in answering these questions, the whole thing does start to get a bit tedious. And rather silly, if you ask me. So I didn't want to take the "science" of fitness to any extreme. I wanted it to serve me more as a guide; a basic blueprint. Because I know that there is the other side of the spectrum, where none of that shit really matters. Where it comes down to your own personal drive, pain tolerance, determination, and mental fortitude. Where it doesn't matter if you only got 4 hours sleep and missed your protein shake for the day; you still get your ass in the gym and perform your workout to the fullest extent.
Lately, I spend a lot of time watching YouTube videos from two of my favorite channels. Each representing these opposing schools of thought.
The first is, my favorite old school Wrestler, the Ultimate Warrior. RIP.
He started his own fitness school some years ago, and his videos about the power of the mind and human spirit are fun to watch. One particular video I enjoy is his quick rant on the concept of "over training."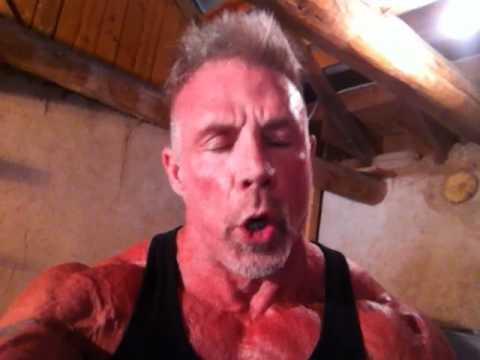 I enjoy AX's videos to help ensure that I'm not doing certain exercises wrong or wasting time doing something "dumb." Like spending 1 hour on a treadmill when I can engage in a much more effective form of cardio.

All that being said, if anyone has any interest in this subject then let me know!