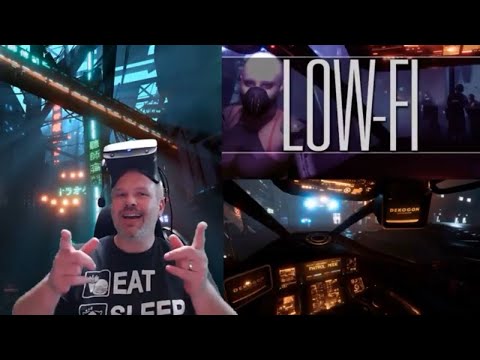 Today I am taking a look at the new cyberpunk VR masterpiece in the making LOW-Fi. this is the latest title from Blair Renaud, the veteran VR developer and creator of Technolust.
This week the game launched onto Kickstarter and I am very happy to see that as of the posting of this video LOW-FI has already hit the initial funding goal! I have to say, after only playing this for a few minutes I can tell you it is completely deserved! Overall LOW-Fi is still in a very early Alpha state but it already has a fully fleshed out cyberpunk dystopian city to explore by either air or land.
So far I am really liking what I see....The city is steeped in atmosphere and the graphics are very polished with lots of neon and holograms that pop against the dreary backgrounds. LOW-FI's audio is also very nice with great background effects and some awesome music!
OK so even though LOW-FI has already hit the initial funding target there are still lots of great stretch goals so lets all get over there and back this amazing project and give Blair some much deserved support from the VR community!
You can still back the Kickstarter and get early access to what is seen in this video and more by heading to this link:
https://www.kickstarter.com/projects/irisproductions/low-fi/
** - Correction: In the intro to the video I state you will get immediate access to the game after backing it but the access is not granted until the Kickstarter ends in October... Sorry for misrepresenting that!

"I have seen the light at the end of the tunnel, and it is the headlamp of the oncoming virtual hype train!"