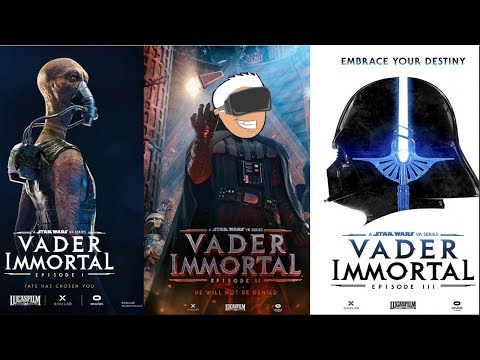 A long time ago in a convention center far far away I sat in awe of the announcement trailer for the Vader Immortal series and last week the trilogy was finally complete! Ever since that day at OC5 I have wanted to experience being a part of the Star Wars universe and last night I finally got my chance. As a true fan of the movie series I've gotta say that ILMX labs has really created something amazing with these short VR experiences and when you put them all together they form a cool side story to the films.
Overall there really isn't much gameplay in these experiences other than wielding a light-saber a few times and using some basic force powers which admittedly were pretty lackluster in comparison to similar mechanics being used in other VR titles these days but even with the clunky controls and small amount of interactivity the sheer scale and beautiful graphics and voice acting quickly sucked me in and made me feel as if I was the silent main character in my own Star Wars story.
Since this series is heavier on the cinematic style than gameplay I decided to stitch all three episodes into one continuous video. This was mainly done for those fans who might not own a VR headset so that they can enjoy the story and visuals on their 2D screens. As such I have time stamped each of the episodes below so that those who do not want to watch the entire video can skip to the various episodes quickly.
Episode I starts at: 0:53
Episode II starts at: 39:41
Episode III starts at: 1:09:58
So if you are a fan of Star Wars or just want to see some high quality cinematic VR then I highly suggest giving the Vader Immortal series a look! []-)
"I have seen the light at the end of the tunnel, and it is the headlamp of the oncoming virtual hype train!"