If you want more info on what Pimax is doing with the 8KX then check it out.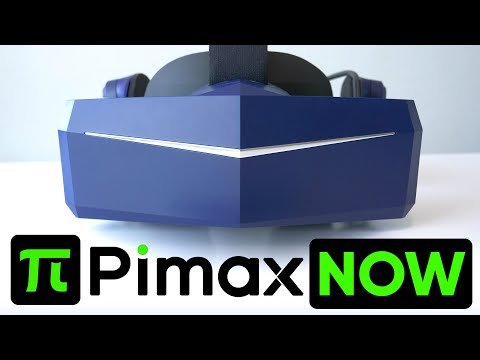 Pimax NOW TLDR Summary From PimaxUSA.

Headset Production Related:
1) 8KX Now Shipping, packages include the long awaited SMAS and a new thin facial foam for the comfort kit.
2) 76 8kX already shipping and a total of 215 ready to ship. This is over 56% of 8kX backers.
3) Pimax Artisan Limited Edition with the Rugged Blue Housing in the Pimax store for $449 only limited quantity of these.
4) Pimax 8k+ Now on Amazon in Europe.
Hand, Eye Tracking Modules Related:
4) First 200 Eye Tracking modules to be shipped in just 2 weeks. Backers can buy for $99.
5) Eye Tracking Includes Universal Dynamic Foveated Rendering that impacts all games.
6) Production Eye Tracking now tracks 3X than CES samples shown faster using USB-C 3.0 interface.
7) FPS were shown for 8kX with eye tracking module. Skyrim 55FPS to 75FPS (+36%)
8) First 200 Hand Tracking modules shipping in July. VERY wide FOV over 200 degrees hand detection.
Rigid Audio Strap Related:
9) 3 Modular Audio Straps being produced. SMAS, KDMAS, DMAS. 8K+,8kX compatible with all 3, others only KDMAS
10) SMAS now being produced, DMAS and KDMAS August. DMAS and KDMAS similar audio performance.
11) KDMAS designed for 1 audio jack and lower power output requirement.
Backer Stretch Goal related:
12) Stretch Goal package changed.
12a) New Stretch Goal Package consists of:
(upgrade from SMAS to KDMAS), Vision Comfort Kit, Extra New Thin Foam, Protective Silicon Sleeve, $100 wireless adapter, 2 pieces of content, Option to buy Eye Tracking for $99.
Items removed from package: cooling fan, prescription lens adapter, 1 piece of content
13) All items will be shipped in a single package beginning in August.
14) If Any backer with stretch goals does not receive their tracking number before Oct. 31st, 2020 they can request a refund of $150 to their Paypal account.
15) PIMAX will pay for shipping, other fees such as VAT or customers fees will be borne by backer.
16) Stretch Goal Tracking System - new webpage where you can see your tracking number, ship date, item list, coupon code for wireless and your 2 game codes in a single location.
New Stretch Goal Opt Out Option:
17) Pimax is reserving 500 8kX for backers that opt-out of their stretch goals. These backers can grab an 8kX headset for $949. $350 off. Deal can't be combined with any other offer or discount and limited to the first 500 who want this option.
New Optical Cable and Laptop cable coming for 8kX
18) NEW Optical cable. Current 8kX uses 2 USB ports and a DP 1.4 port. NEW cable only requires 1 USB port and can be considerably longer. Cable is currently in testing. One was shown during the Pimax Now event. August.
18a) NEW Laptop cable for 8kX headsets with a mini DP interface. No more requirement to lose signal through a DP adapter for laptops on 8kX.
Pimax Sword and Sword Sense Related:
19) When Pimax put total focus into comleting the MAS, 8kX, hand and eye tracking they had entered into the prototype phase for the Sword and Sword Sense controllers but much testing and potential changes remained. The controllers are now becoming the new primary hardware focus.
20) ANYONE who ordered a Pimax brand controller can request a refund in the amount they paid. All requests will be processed and refund payments will occur towards the end of August. This only applies to Pimax controllers, all base station shipments will continue as normal as we have these in stock.
NEW Pimax Experience and Pitool Related
21) Pimax Experience Announcement. Plug & Play setup and config for all Pimax owners. This new environment includes a VR environment that replaces the planetscape that loads when Pitool initializes. Features IPD setup guide, cloud base game profiles that anyone can contribute to and vote on, Pimax News and Updates, Favorite game lists and much more. The environment also automatically optimizes SteamVR for Pimax headsets including the sharpness tweaks for the 8k+ etc.
22) We will open source the Pimax Experience later in the year.
23) Pimax Experience Beta to be released in July, under development for the last 2 months.
24) Pitool Update - roadmap - items such as backlight control, XR black levels, Motion Compensation centering will be implimented in some of the next Pitool releases.