I was lucky enough to try the demo back in FEB 2017 and it blew me away.
Here's a video of my 'initial thoughts' at the time.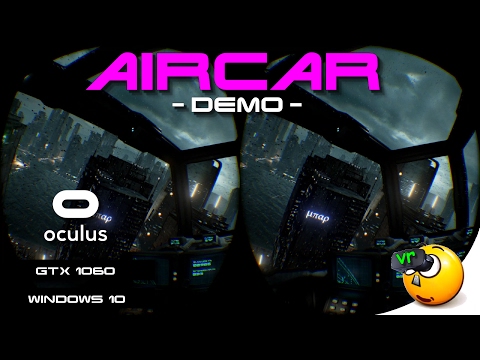 ALSO The developer wants to turn this experience into a FULL GAME so show him your support here: 
https://www.reddit.com/r/Aircar/comments/6u7w2v/if_you_enjoyed_playing_aircar_and_would_like_to/
This is one of my goto experiences to show friends and new people VR for the first time and it just blows them away!
☆ YouTube 'Content Creator' and 'Steam Curator' (
https://www.youtube.com/user/ParadiseDecay
) ☆ Devs! I'm always on the look out for new and interesting VR experiences! ☆ Oculus Rift CV1 ☆ Windows 10, 64 bit ☆ Intel Core i7-3770 ☆ 16.0GB Ram ☆ GeForce GTX 1060