I'm normally not that much into this kind of art, but I gave it a shot - and I was simply blown away. I never expected that graphics like this was even possible on the Rift, admitted I'm forcing super-sampling 2.0, but still. (Sorry about these Vive trailers, but I couldn't find the Oculus trailer on YouTube.)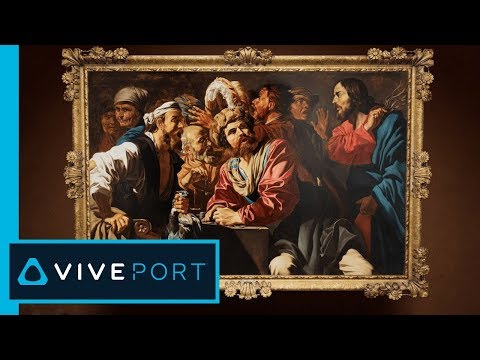 Get it here - it's just 10 bucks, you can't even get admission to a real museum for that price ;-)
https://www.oculus.com/experiences/rift/1944128808953270/
My 5-star review from the Oculus Store:
A must-have for the Oculus Rift!!!

This app probably has the best graphics on the Rift, the paintings are simply out-of-this-world astonishing. Even if you don't care for - or know much about - art, try this app (in the presumably rare case that you don't like it, you can always get a refund). I'm forcing super-sampling 2.0 using Oculus Tray Tool, and not even Lone Echo provides textures like the images shown here. It didn't feel like Virtual Reality - it felt like reality. The graphics are so life-like that I'm not sure seeing the real paintings would provide a significantly better experience than using the this app. In short - I'm totally blown away by the quality of these paintings, it really felt like I was using a headset much better than even the Vive Pro - and I'm not trying to be funny.
Furthermore you get stories told to each painting, so these aren't just paintings, but experiences that come to life. This virtual museum is so much better than most of the art museums I've visited in the real world, and that says a lot. The only annoying thing was teleport movement - I'd suggest that the developers soon support full locomotion as an option; I'm convinced that most visitors would like to walk around, and not to jump around, in such an amazing museum ;-) Congrats to the developers - you truly deserve it, even the wooden and marble floor textures are incredibly awesome - and my Touch controllers are made of GOLD, who can top that?! :-)
(Note: Some Steam users complained about having to log in or having to create an account to use this app, this have been completely removed in the Oculus version, thus Oculus users have instant access to everything)
Intel i7 7700K (4.5 GHz); MSI GeForce GTX 1080 8GB Gaming X (oc 2100 MHz gpu boost, 11 GHz mem speed); 16GB Corsair Vengeance LPX DDR4 3200 MHz; MSI Z270I Gaming Pro Carbon AC (VR-Ready) mainboard; Samsung 960 Evo M.2 SSD + Toshiba P300 HD; Windows 10 OS; Valve Index and Oculus Rift CV1 - the latter nearly always using super sampling 2.0. 

"Ask not what VR can do for you – ask what you can do for VR"